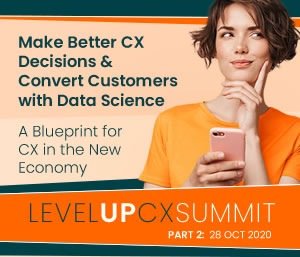 A Bluerint for Customer Management in the New Economy
28 Oct 2020
Part 2: Make Better CX Decisions & Convert Customers with Data Science.
Decoding the new customer mindset
How leading businesses are using a blueprint to decipher customer mindset and prevent churn.
Journey Analytics: the next evolution of Customer Experience
In this 6-part series, we explore the ins and outs of Journey Analytics and explore how some of our leading customers are using Journey Analytics to grow their businesses.
Discover and visualize customers' real journeys
Real customer journeys are messy and unpredictable. Visualize end-to-end customer paths across channels by joining the dots in your customers' transactional and behavioural data. Discover where your customers are reaching their goals or getting stuck.
Measure how customers are feeling
Your customers' emotional journey is essential context. Reach out to customers on their journeys, in real time, to gather feedback and measure sentiment. Understand behavior at moments of truth and drivers of channel choice.
Read more about inQuba CX.
Get deep insights into behavior & segments
Understand the behaviour you've discovered by overlaying real journeys with customers' feelings. Customer segments may be encountering obstacles resulting in poor satisfaction, and this will inform the interventions needed for at-risk customers.
Change behavior with nudges and interventions
Orchestrate customers' journeys for success by reaching out when they need help. Change behaviour through personalized interventions. Launch automated service and information engagements that change behaviour and boost conversion.
Review ROI and fine-tune optimization
Measure the impact and effectiveness of your interventions, and fine-tune. Assess the result of engagements on customer behavior and conversion and further optimize journeys against customer goals and business targets.
inQuba's Journey Cloud offers a toolbox of cloud-based apps to help you optimize customer journeys and reinvent customer experiences.

Visualise customers' real journeys and intervene to win, keep and grow them.