Your customer's voice at the center of everything
inQuba CX collects and analyses customer feedback from multiple data sources including surveys, social media conversations, contact center interactions, email and transactional and financial data.
The inQuba platform delivers the right insight to the right person at the right time, ensuring that quick action can be taken, whether engaged in service recovery or proactive management of the customer experience. It is underpinned by a comprehensive analytics capability that allows you to drill deep into the data to reveal meaningful patterns and isolate root causes
Operationalized CX improvements
inQuba CX goes a step beyond what most of todays' customer feedback systems can deliver by providing context sensitivity, granular traceability, predictive modelling, and statistical target score setting to systematically operationalize customer experience improvements across the enterprise. All on one integrated platform.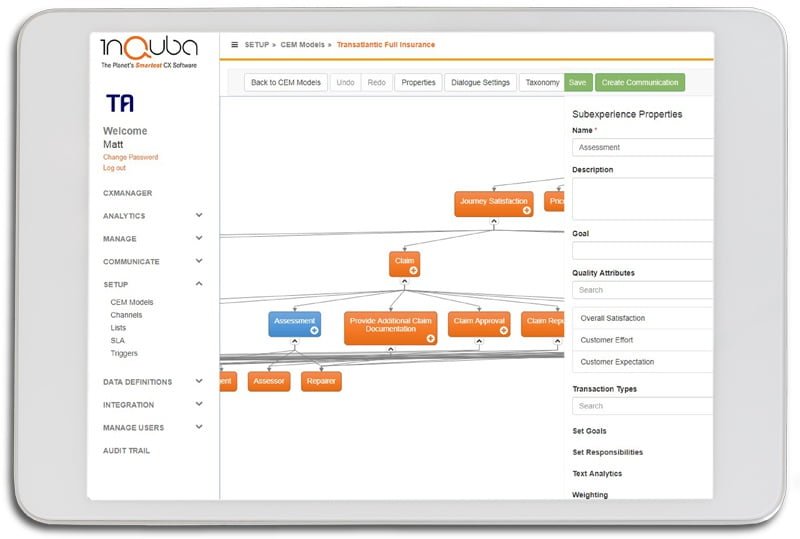 Model your customers' journey
inQuba CX models your customers' journey, from their vantage point, as they touch your organization through various channels.
This experience matrix of customer stories is captured as both structured and unstructured text, organized by inQuba's powerful CX Model and stored in the inQuba CX data repository as and when experiences occur.
For a data-driven view of customers' real journeys, see inQuba Journey Analytics
The human touch, omni-channel
inQuba CX's revolutionary rules and context engine allows multi-channel survey authoring and management. This enables highly personalized and contextual omni-channel surveys, building communications based upon transactional, customer and dimensional information, in real time.
Know your customers, and accounts
inQuba empowers the CX professional to understand the customer fully, and provides the tools to interact with them as if a 'market of one'. Single View provides insight into customer details and preferences, an interaction and activity history, linked profiles, top themes based upon text analytics, and the ability to initiate contact.
For B2B accounts, the platform displays a visual hierarchy of each account, made up of different roles and an indication of overall account health.
It's challenging to anticipate everything, especially based upon the many interactions you have with your clients. But inQubaCX makes it a little easier. Predictive Modelling, embedded within the inQubaCX platform, uses longitudinal data to statistically anticipate tomorrow. Whether it's customer churn or hot topics of conversation, inQubaCX is your early warning mechanism of choice.
Feedback: your conversation monitoring solution
Smart Streams within inQuba CX Feedback provides the ability to organize channels and conversations. Role-based views deliver streams of important survey responses, escalations, emails and social media commentary, organized based upon channels and rules. Nothing important goes unnoticed and insight is delivered in real time, allowing you to respond and recover when necessary.
Adding structure to unstructured data
inQuba CX's groundbreaking unstructured data analytics engine processes unstructured data from verbatim survey commentary, social media, and even voice, and organizes it against the CX Model. Important themes or shifts in sentiment, traditionally hidden, are dynamically identified and placed under the spotlight for quick action. Hot topics within the customer's story are identified before they develop.
Automated service recovery
inQuba CX's unrivaled Complaints Management module has collaboration baked in at its core, assisting you to drive issues to resolution within the business. inQuba CX also has a built-in workflow to provide internal feedback and escalation management.
Sophisticated analytics & visual data discovery
inQuba CX's unsurpassed Visual Analytics capabilities, delivered through online dynamic dashboards in real time, allow for effortless exploration and insight extraction through an intuitive interface. Identify areas of interest within the business and easily drill down to detail and single data points, and then act. Role-based views ensure that you see what's important. Reports distribution delivers role-specific reports throughout your business or branch network, creating a view of the customers' experience at all levels.
inQuba's proprietary Research Model, embedded in the inQuba CX solution, employs predictive modelling and identifies the longest levers for CX improvement efforts. The model anticipates churn based upon customer segments, and preemptively arms the agile CX professional. The Collaboration module, employing game theory methods, redefines the way people work, organizing targets which are important and achievable, and providing teams and individuals with continuous feedback.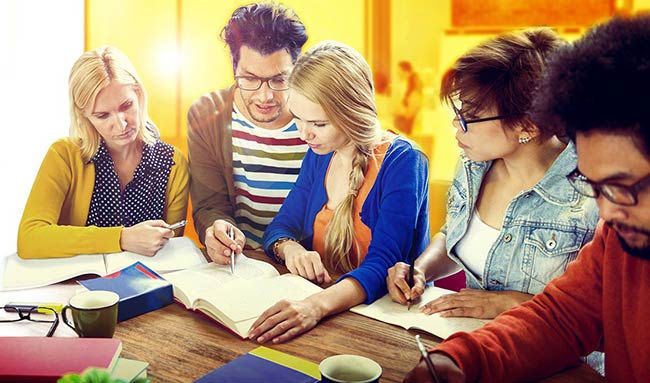 inQuba's Journey Cloud offers a toolbox of cloud-based apps to help you optimize customer journeys and reinvent customer experiences.

Visualise customers' real journeys and intervene to win, keep and grow them.