inQuba Engage has been designed with the customer at the center. By maintaining an accurate view of your customers' context, preferences and sentiment you have the ability to engage in context-specific conversations with your customer base. This is CX Engagement made simple.
inQuba offers a single CX platform where Engage is integrated with VoC, Case Management and Social Media modules, and also integrates seamlessly with your existing CRM solution.
Achieving goal-driven outcomes…
Businesses communicate with customers in order to achieve business goals. The business goal may be a simple distribution of information. It may also be a more intricate communication path which is designed to nudge customers towards a goal. This is what is meant by goal-driven. Engagement strategies are informed by customer context and previous responses received. Customer states are monitored and their courses can be corrected in real time.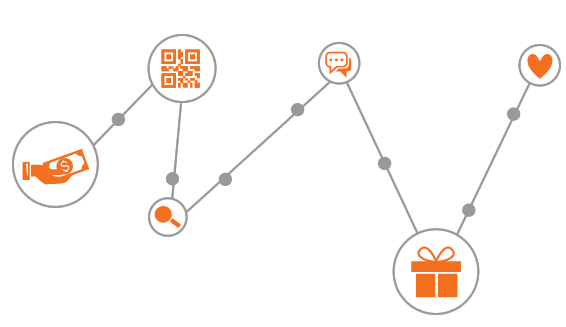 …Requires relationship memory
The CX Repository stores all contact information, including customers, leads and employees. Contact information is kept up to date with most recent contact and transactional information. inQuba Engage remembers everything, and makes all contact information available to the powerful rules builders for communication construction. Within the CX Repository, the full relationship between your business and a customer is summarized through a view of all conversations, transactions and preferences.
A single view of your customer
inQuba Engage makes connections between all the things that your customer does, and the Single View is the key to highly relevant and contextual engagements. The CX Repository stores all contact information and maintains a real time perspective of the customer, made up by hard data, unstructured data, responses and transactions. It also integrates into the inQuba VoC solution ensuring that any survey feedback that is received from the customer is available for subsequent interactions. The Single View empowers business to personalize and contextualize all communications, ensuring best possible response rates.
Say the right thing, to the right person, at the right time. Customer management has evolved beyond the simple requirement to have broadcast capabilities. Customers want to be able to interact with a company and for their interactions to be recorded in the consciousness of the organization in such a way that each subsequent interaction reflects all prior interactions. inQuba Engage allows customer context, which changes continually, to be stored and made available in a single place, in real time.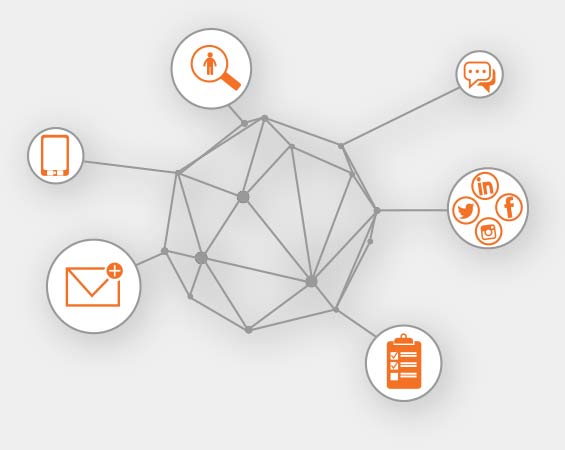 Omni-channel communications
From simple communications to multi-wave campaigns, context is transferred seamlessly across channels. inQuba Engage was designed from the ground up as an omni-channel solution, and this capability allows the customer experience professional to communicate with customers through their preferred channels: email, web and mobile technologies. Not only does the solution support omni-channel interaction, but more importantly, interactions can be orchestrated across channels and the context is transferred from one channel to the next.
High levels of personalization
Every customer is a 'Market of One'. inQuba Engage provides the highest possible levels of personalization, both in terms of outbound communications as well as interactive dialogues. Highly personalized communication is made possible through the combination of real time customer context, a powerful rules engine for rendering, and a customizable data structure. A/B Testing within the solution allows users to test multiple variants of the same communication.
inQuba Engage is really easy to use. Whether your requirement is a basic marketing newsletter or an intricate multi-wave campaign, the communication design interface offers an intuitive wizard-like process, guiding the user through the design steps. Drag & drop capabilities allow users to easily add graphics and other components to new or existing templates, while providing rich graphical previews. Elements are rule-based and context driven, allowing the user to build in personalised graphical elements.
Download the product paper here to learn more about these
inQuba Engage benefits as well as:
Interactive Capabilities Rich Analytics Single Platform
Operational Management Security And Subscription Management
inQuba's Journey Cloud offers a toolbox of cloud-based apps to help you optimize customer journeys and reinvent customer experiences.

Visualise customers' real journeys and intervene to win, keep and grow them.