Helping customers achieve their goals so that you can too
Brilliant customer experiences can seem out-of-reach for most businesses, especially in today's environment. That's why today's multidisciplinary leaders are approaching challenges differently and demanding solutions that help them understand and act. Customer Journey Management, which includes orchestration, makes this possible.
Customer Journey Management, as we've already noted, is the process of discovering and optimizing your customers' journeys and customers' interactions with your brand, to improve customer experiences and business outcomes. It's ongoing rather than a once-off implementation, involving real-time interaction management. The approach consists of traditional journey mapping, Journey Analytics and Journey Orchestration, which we'll be looking at in this post.
The traditional customer journey map is a good start to understanding the customer lifecycle, but, in isolation, lacks granularity and real-world actionability. Only data-driven, journey-based methods can expose real journeys. This is achieved through Journey Analytics, which is the science of exposing and understanding customers' actual, real-time behavior across customer touchpoints, at scale.
Journey Analytics succeeds in answering these questions –
What does the customers' real journey look like, a where are they getting stuck?
What do customers value and are we delivering it?
Are customers reaching their goals? If not, why not?
Journey Analytics provides unequalled insight into real-time customer behaviour. But now it's time to take action through orchestration.
What is Customer Journey Orchestration?
Imagine that policy holders are failing to register on a portal that will allow them to manage their retirement investments. They currently have limited engagement with the insurer. Policy holders don't see the importance and therefore go idle. The insurer launches digital engagements through mobile chat platforms to gather customers' individual retirement goals, and then points them towards a calculator on the portal to confirm they'll reach their goals! This drives engagement and registration. When customers are reaching their goals, you are too!
Journey Orchestration, the most powerful aspect of Customer Journey Management, is the crafting and guiding of customer experiences in real-time to ensure that customers reach their goals. How is this made possible?
Powered by insights into cross-channel customer behavior, sentiment and goal achievement, orchestration guides customers for success. Unsuccessful customer journeys are then optimized for success. Friction affecting progress is quickly addressed and this is achieved through hyper-personalized, real-time interventions and nudges. Sometimes customers just need a little more information during their application, or a reminder to provide some information, and these digital nudges can guide them forward. Your customer journey data is fully harnessed to improve customer experiences.
At inQuba we've seen journey orchestration achieve some fantastic results:
A 31% increase in portal registration (insurance)
A 34% increase in onboarding conversion (fintech)
A 200% increase in customer engagement (insurance & investment)
Significant improvements in customer satisfaction and NPS
Why is Journey Orchestration important?
Customers' expect to be known. Customers' expectations continue to rise, and they're increasingly creative and empowered. They expect to be treated as individuals and for their personal context to be understood. The journey orchestration platform ensures that customers receive personal engagements around relevant experiences in the moment, through their preferred channels and touchpoints. This allows for the nurturing of the relationship between customer and brand, introducing a focus on lifetime value. When successful, this will ensure advocacy and future purchases.
It bridges the gaps between teams. Customers unknowingly touch all areas of the business when trying to achieve something – sales, marketing, support, etc. This can lead to inconsistencies in experiences as they deal with siloed operations. Journey orchestration solutions provide a view of the end-to-end customer journey, bringing all areas of the business together around the customers' real journey. This allows for meaningful engagements throughout and the ability to manage customer expectations coherently. It's a unified canvas that all business units can rely upon.
Types of journey orchestration
Sometimes customers need a little more information before moving forward. This can be achieved with a simple informational engagement, offering details on a next step or answers to common questions at that stage in the journey.
A value communication reminds idle customers of the value of the service, or the value that will be unlocked when they complete a process. This could be benefits offered by an insurer, for example.
A simple reminder, such as for outstanding documents, can nudge customers forward and guide them through completing an application.
Sometimes customers need personal assistance during a process and digital interventions can make a handover to a representative possible. The handover is initiated by a simple response in a text or chat dialogue which then leads to individual customer service.
Conversational commerce allows businesses to use personal, natural conversations (powered by Machine Learning) to achieve something. The conversation takes place through instant messaging platforms and is an effective way to serve customers, provide personalized recommendations, answer questions, share resources, and ultimately move customers forward.
While not strictly orchestration, personalized engagements are also used to measure the individual experience and collect customer information in order to augment their profiles and further fine-tune future personalization. Rich profile information also allows for segmentation.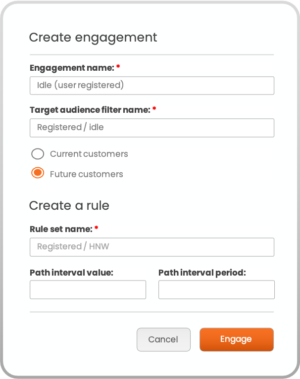 Case study: building customer loyalty through brand-infused journeys
Sanlam Corporate identified the importance of engaging with employees at corporate clients during their retirement saving journey. Getting members are more involved in their investments would ensure they're better prepared for retirement, and improves portal registration and ultimate loyalty.
There were some friction points. The employees didn't fully understand the relationship between their employer and the business managing their retirement savings. Many were also disengaged on the subject of retirement, considering it a 'problem for later'.
As part of the program, the following was defined:
How do we want members to feel at each stage of their journey (knowledgeable, assured, acknowledged, etc.)?
What do we want members to do? (read resources, access portal, use online tool, etc.)
What is the engagement toolbox is needed for each outcome, per segment?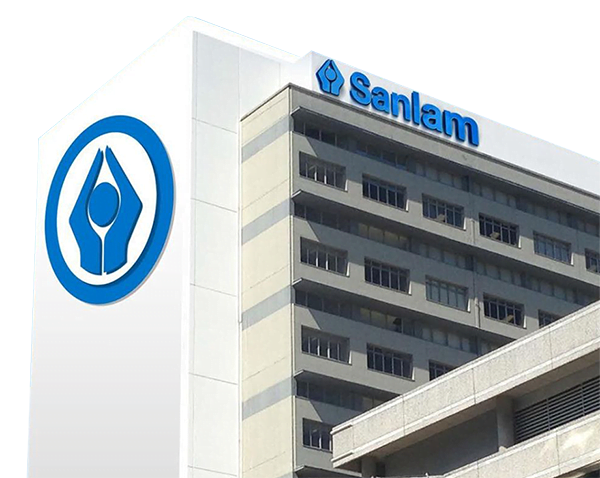 Members were engaged at identified stall points with a series of communications that informed, educated and empowered members, moving them to register on the portal and engage with their investments. Customers engaged and some of the results were:
The actual customer journey and main points of friction were identified and visualized
A 46% increase in portal registration amongst members who responded to a nudge
A 31% improvement ion overall portal registration compared to the control group
A 200% increase in engagement levels
About inQuba Journey Management
Customer Journey Management is the laser technology of CX. Lasers offer targeting precision for specific use cases, and users have granular control. Similarly, managing customer journeys allows you to focus on the specific – cohorts, behaviors and use cases. Every systematic action is for someone, not everyone.
While CX results are flattening, inQuba Journey Management, which includes Journey Analytics and Journey Orchestration, is helping businesses to visualize actual journeys, understand their emotion, dynamically clear their paths, nudge them in the right direction and double customer conversion.
We'd love to understand your business challenges better, and discuss how Journey Management can transform your customers' experiences and business growth.
Read the full series on Customer Journey Management now.