Exploring This Next Evolution of CX for the First-Time Buyer

So you're considering investing in a customer journey management solution. That's an important step! You've probably realized that your customers' behaviour is dynamic and increasingly unpredictable, and your normal approaches aren't cutting it. And now you're faced with the next step – choosing a solution.
Journey Management isn't a rigid approach to solving a single problem, but rather a flexible toolbox that addresses a variety of challenges (like acquisition, retention, and many more). This means that solutions have different capabilities. If you're new to journey management then you need to navigate the landscape to understand what's truly necessary to improve the customers' experiences. We trust that this guide will help you separate what's important from what's not.
Briefly, what is Customer Journey Management?
Customer Journey Management, or Journey Analytics, connects the dots between everything your customers are doing and feeling, by unifying data and creating customer-led visualisations of actual journeys. Leading businesses are using journey management solutions to discover and optimize customers' journeys.
According to CustomerThink, "Journey management enables you not only to measure, monitor and optimize customer experience, but align your entire organization with your customers' goals."
The following 5 features will enable and empower your business to influence and change customer behaviour, thereby boosting acquisition, retention, and much more.
1. JOURNEY DISCOVERY
A Journey Management solution that doesn't help you discover real journeys wouldn't serve a purpose. Rather than the journeys you've modelled and mapped, you need a real-time visualization of successful and unsuccessful paths. Paths should be driven by actual customer intent and context over time, and should be built from a wide range of data sources. This will help you uncover and visualize customer segments, and identify which customers are leaving, where they're leaving, which ones are reaching their goals, and where the obstacles are.
A note on journey mapping
Traditional journey mapping is a common and useful starting point to improving customer experience. An obvious shortcoming of journey mapping is the absence of the customer in the room during the process. Customers are purpose-driven, not limited by a model. You should be aware of the following:
Maps aren't real journeys, and don't match the journeys customers are experiencing in the real world.
There's no refresh button. Maps don't change but journeys do.
Customers are real people. Maps don't help you see real behaviour or emotion.
Customers experience friction. Maps don't identify or help you address obstacles.
2. MEASUREMENT OF VALUE DELIVERY
It's important to understand real customer behaviour (mentioned above) and equally important to understand how customers are feeling as they engage with you. For this reason, it's essential to be able to measure customers' perception of value delivery and general sentiment. In other words, do customers believe that value is really being delivered to them at each step? Look for a journey solution that offers the ability to collect real-time customer feedback and measure customers' satisfaction and pain points at each step. Customer emotion is measurable through structured methods (such as surveys and mobile dialogues) and unstructured methods (such as social media).
A note on value delivery
Businesses are quick to talk about the value of customers rather than value to customers. However, customers that receive value create business value in return. The types of value that customers expect at each step of their journey, either consciously or otherwise, are different and nuanced. The four dimensions of value according to Forrester are:
Economic. The amount spent or saved by customers.
Functional. What the product or service offers in features.
Experiential. The experience of the service or product when interacting.
Symbolic. The status delivered by using the product.
3. INSIGHT INTO GOAL ACHIEVEMENT
The solution you choose should provide layered insight. Actual customer behaviour with an overlay of emotional context (and perception of value delivery) will help you understand why customers are reaching their goals, or not. You'll need to understand how value is being delivered and whether goals are being reached at each step. You'll also need visibility of which types of customers (segments) are progressing or stalling, and why.
Consider a scenario where a customer segment is stalling after receiving an online insurance quotation. On the surface it may seem like a simple channel failure. However, you're able to identify that brand strength (symbolic value) and economic benefits drew the prospects in, but the quotation experience and details of the actual cover (functional value) were concerns. Imagine having this insight at your fingertips when designing fixes.
4. INTERVENTION DESIGN
One of the main reasons that leading businesses adopt journey management is to influence and change customer behaviour. You want to encourage certain behaviours at each step of the journey. To achieve this, you'll need to orchestrate customer journeys so that they are personalized and help customers reach their goals.
Your solution will need to allow for highly personalized and contextual interventions that move customers forward. These will be driven by the value that each customer segment needs at each point. You'll want to launch behavioural and informative nudges, as well as human interventions and other process innovations.
Consider the scenario where a customer stalls after having received an insurance quote. The insurer then nudges them with a short WhatsApp message that reminds them and possibly offers an incentive to move forward. The message may also offer a response option where the customer can connect with a consultant for clarification. You need a flexible toolbox of interventions that are channel agnostic and allow for omni-channel decisioning.
5. REVIEW FOR SUCCESS OPTIMISATION
When making a purchase decision, pick a solution that allows you to check whether the desired outcome was achieved, and then quickly fine-tune and iterate based upon the results. Your data analytics should be customer journey analytics.
What was the impact of your strategies on conversion and retention? Let's improve them. How can you further boost value delivery? Let's sort that out. Were the interventions effective? Yes, but let's make them better. What was the impact on goal achievement? Let's boost it. To display real ROI you'll want a solution that helps you make and launch small adjustments swiftly.
A FEW MORE CONSIDERATIONS
Is the solution a built-for-purpose, stand-alone journey platform rather than a series of point solutions? This will allow for cross-channel decisioning in real-time. Ingest, visualize and orchestrate in one place.
Will the solution fit with your existing tech? Your historic tech investments should be accommodated seamlessly, making journey optimization possible through simple integrations.
Will the solution support a wide range of online and offline data sources? It's essential to be able to swiftly include customers' data, operational data, CX data and your marketing teams' data when necessary.
Will the solution scale? It's important to be able to roll out the solution across the business as it is shown to be successful.
Lastly, ensure that you check out data safety and downtime and service support. You wouldn't want to be left high and dry by your provider.
CASE STUDY
This leading South African retail bank uses inQuba to identify stall points in customers' card application journeys and boost conversions through dynamic interventions. The objective of the program was to boost customer acquisition, conversion, and insight.
Some of the bank's challenges included:
Credit cards not being taken up (NTUs) after being successfully applied for
Insufficient metrics to identify failure points in journeys
The solution included the following:
Sentiment and feedback were collected at all points of the customer journey
Stall points were identified and defined
Hyper-personalised, real-time interventions and nudges were launched to help customers reach their goals
The results included:
A 96% increase in customer conversion at key points
An increase in NPS compared to peers and benchmarks
An increase in CSAT and turnaround time
TAKE THE NEXT STEP
We hope that this guide has been helpful and given you confidence as you move towards a solution. With the abundance of journey management providers out there claiming to offer a solution, our 5 points will help you separate the experts from the rest. Your purchase will be an important investment.
inQuba's Customer Journey Analytics solution will help you to influence and change customer behaviour as they journey towards their goals. Unlike other solutions, inQuba allows you to make connections between customer journeys, interventions and revenue – quickly and easily. Ready to get started? Do it now.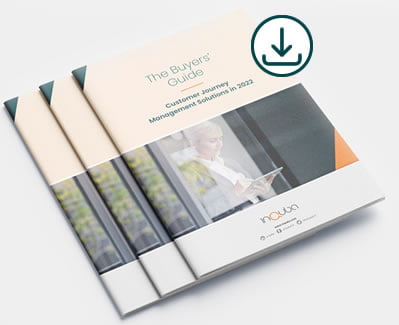 Download this buyers' guide now
By submitting this form you agree to inQuba processing your data in accordance with inQuba's Web Privacy Policy. You can opt-out of all communications at any time. This form is protected by reCAPTCHA.
Discover more about Journey Management with these great resources.