inQuba's WhatsApp-enabled journey orchestration achieves never-seen-before results
In recent years, businesses have relied heavily on email and SMS as channels to communicate with their customers. However, as these channels have become saturated with marketing messages and spam, customers have become less responsive to them. Customers' patience for impersonal messages has hit a low with two-thirds of consumers saying they'll quit a brand if their experience isn't personalized, according to a 2023 Twilio report*. The traditional channels are resulting in lower customer engagement, which then leads to lukewarm sales conversion, ineffective servicing, and ultimately poor retention. The rise of messaging apps, social media platforms, and other communication channels has given customers more options to interact with businesses, making it harder for companies to stand out in their customers' inboxes. Today, leading brands are exploring new and innovative ways to connect with their audience.
Successful brands use digital customer engagement to drive growth and increase resilience in a rapidly changing landscape, according to the same Twilio report. Engagement leaders in the space are reporting both customer retention and customer conversion as being higher than the previous year. They achieve this by making the important move from data collection to data activation through personalization.
WhatsApp, the most popular messaging app in the world with over 2 billion users, has emerged as the consumer engagement platform of choice. The chat app has taken off in regions where SMS messaging is particularly expensive, such as Africa, Asia and Latin America. An incredible 96% of South Africans use WhatsApp*! As soon as messaging apps are adopted socially, opportunity is unlocked for businesses.
At inQuba, we've baked WhatsApp's power and reach directly into inQuba Journey Orchestration, and we've seen message read rates as high as 90% and engagement rates above 40%! The power of WhatsApp-enabled orchestration is boosting customer conversion and business revenue. It's now easier than ever to orchestrate customer journeys for success, drive up engagement, and ensure consumer trust through the following approaches:
WhatsApp in Journey Orchestration
WhatsApp in Journey Orchestration
Journey orchestration, the most powerful aspect of Journey Management, is the crafting and guiding of customer experiences in real-time to ensure that customers reach their goals. WhatsApp-enabled orchestration allows the following:
Discovery and visualization of customer journeys and behavior, including WhatsApp, email, SMS and web.
The ability to track and then trigger personalized WhatsApp dialogues as nudges and interventions based upon predetermined rules, such as certain behavior including clicking on a website page or responding to a WhatsApp or expressing a negative sentiment. This may include reminders to customers who haven't responded or taken an action yet.
Customers' channel preferences are important and can lead to channel switching while maintaining dialogue and customer context. For instance, a customer who hasn't responded to a WhatsApp message may choose to rather engage through eMail.
Feedback gathering through short interactive dialogues, thereby supplementing survey and engagement reports, and building up the single view of every customer based upon what is learned about them.
In-store dialogue activation through WhatsApp QR codes to collect customer information and feedback in real-time.
Expand to chatbot conversations that can deliver personalized AI-powered content based upon a repository of company information.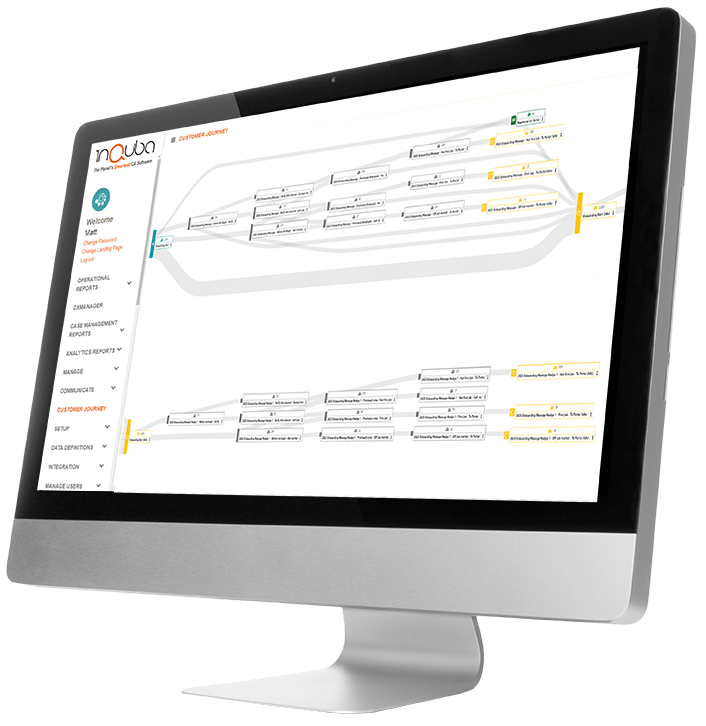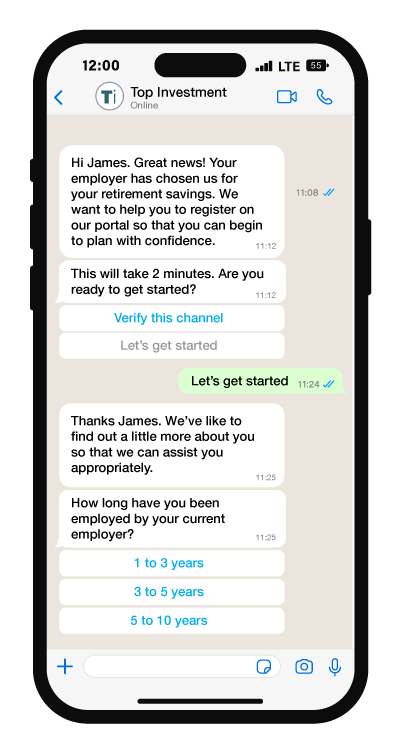 Boosting Customer Engagement
Boosting Customer Engagement
WhatsApp's rich functionality such as Quick Replies, List Pickers and Media Cards, available through the inQuba platform with no technical coding work required, have been conclusively shown to increase engagement.
Support for rich, personalized, multimedia content without any coding.
Building Consumer Confidence and Trust
Building Consumer Confidence and Trust
WhatsApp is a verified channel that is fully secure and offers end-to-end encryption.
WhatsApp allows for verification of sender brands, ensuring that consumers know who they're talking to.
All the power without the fuss
All the power without the fuss
inQuba helps businesses to avoid the typical implementation challenges and ensures speed to market through the following:
No development overhead
Facilitation of verified WhatsApp numbers
Assistance with template approval from Meta
Assistance with the setup of multi-channel dialogues
Facilitation of data retrieval from backend systems
Design of WhatsApp dialogues to maximise engagement and ROI
inQuba's WhatsApp Solution offers hyper-personalization through a familiar and trusted messaging platform. Personalization increases customer engagement, improving open rates, conversion and repeat purchases.
Driving customer conversion with personalized engagement [Case Study]
Our client, a multi-national investment and insurance company, identified an opportunity to boost client engagement and portal registration. This was achieved through personalized WhatsApp dialogues and nudges that encouraged clients to take the next step in their onboarding journey.
Dialogues were initiated through WhatsApp Template Messages. Messages came from the verified WhatsApp account of the investment provider, establishing credibility from the first step. The conversational dialogue includes the following:
A branded introductory WhatsApp message, context for the message, and the options to either verify the channel or get started with portal registration. Options were presented as easy-selection buttons.
Single-response questions gathered some customer information which was used to inform the flow of the dialogue. Again, buttons were provided for easy responses.
Rich personalized infographics were shared which provided the new policy holder with useful financial information for their particular context.
An onboarding guide was provided in .pdf format, with the options to either receive a call to discuss or continue to registration through the WhatsApp Channel.
Clients who chose to continue were connected directly to the portal for online registration.
Importantly, clients who stalled at a particular point were nudged with a follow-up message after some time had passed, which guided customer forward.
The results display the undeniable impact of introducing WhatsApp templates and nudges to the onboarding journey. The overall response rate on WhatsApp soared to 40%!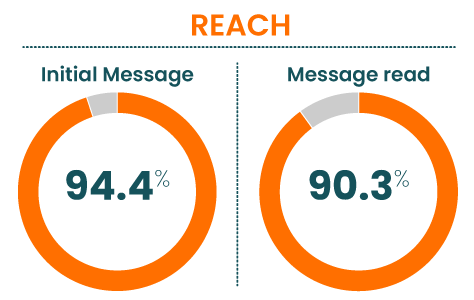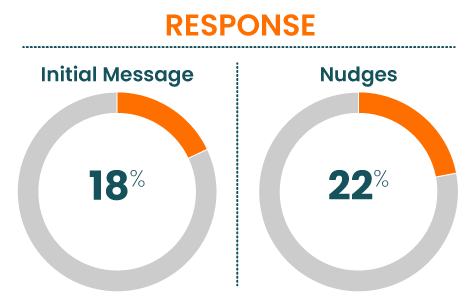 The combined power of inQuba Journey Management and WhatsApp template functionality drives up engagement, customer conversion and revenue. We'd love to understand your business and challenges better and discuss a possible solution for you.
About inQuba Journey Management
Customer Journey Management is the laser technology of CX. Lasers offer targeting precision for specific use cases, and users have granular control. Similarly, managing customer journeys allows you to focus on the specific – cohorts, behaviors and use cases. Every systematic action is for someone, not everyone.
While CX results are flattening, inQuba Journey Management, which includes Journey Analytics and Journey Orchestration, is helping businesses to visualize actual journeys, understand their emotion, dynamically clear their paths, nudge them in the right direction and double customer conversion.
We'd love to understand your business challenges better, and discuss how Journey Management can transform your customers' experiences and business growth.