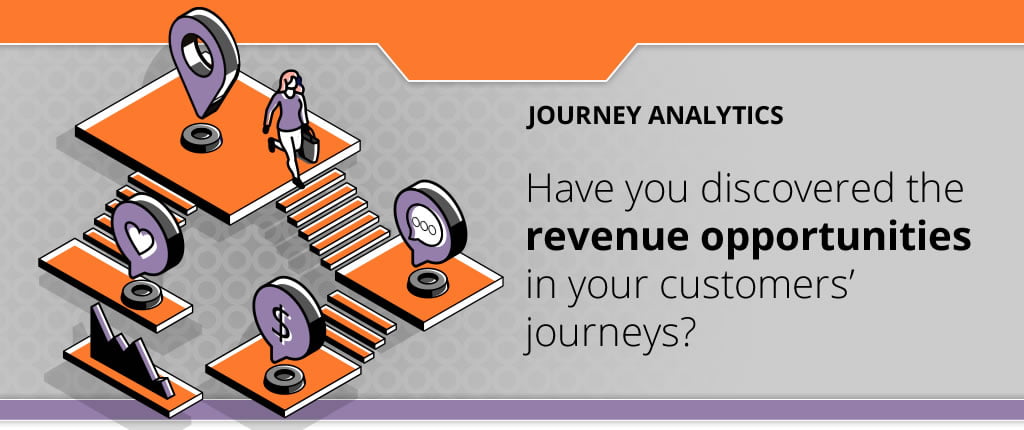 HAVE YOU DISCOVERED THE REVENUE OPPORTUNITIES IN YOUR CUSTOMERS' JOURNEYS?
Drive Behaviour Through Interventions & Nudges
Customer success isn't measured by whether or not they reached their goal: it's measured by the path they took and experiences they had along the way. While Journey Analytics exposes these different journeys, you still need tools to help you influence what you're discovering – whether it's helping customers in distress or gently nudging them towards an outcome.
Let's say a certain number of your customers called your contact centre multiple times during their policy application and then didn't progress, for whatever reason. What if you could identify this group of customers, and then reach out and assist them before they go away forever? Similarly, customers can be identified and engaged for cross sell based upon their sentiment and experiences.
These are two examples of how interventions and nudges can be an important part of customer journey management, improving customer retention, acquisition and conversion.
You may have noticed particular hot spots in the business that result in customer frustration and risks to retention. With intelligent inputs from machine learning and AI, Journey Analytics allows you to anticipate future journeys, build rules, and ensure that interventions are triggered in real time to assist and nudge customers towards their goal.
This is the next evolution of customer experience management. Here's a real world example of how it could work:
A financial services provider was struggling to get customers to start using the credit cards they'd applied for. Due to multiple stall points, offers were not taken up, applications were not being processed or consumers weren't activating their cards.
After understanding the customer pain points, a personalised, contextual and supportive solution was designed to assist customers and gather feedback:
Stalled customers received engagements in real time to gather feedback.
Cases were generated for service failures, requiring resolution.
Customer states were identified based upon journey segments.
Communications were crafted for each customer state, to nudge customers forward.
Where offers were taken up, confirmation call-backs were triggered.
Customer behaviour changed as a result of the value-adding engagements.
Customer loyalty increased by 20%, the campaign ROI increased to 100% and take up of offers doubled.
Looking for more on customer interventions and customer journey management?
This post is a summary of a paper called 'Customer Interventions – Driving Behaviour Through Interventions & Nudges'. Download the full complimentary paper for more detail.