CX 2.0: 

JOURNEY MANAGEMENT IS THE NEXT EVOLUTION OF CX
Improving on Customer Journey Mapping by giving the bigger picture.
We're all familiar with customer journey maps. They're typically a series of experiential steps that illustrate all the steps a customer is likely to take as they try to achieve something within your business – whether it's applying for a product in a branch, changing a booking via a call centre or buying a product online. Sometimes the map gives an indication of sentiment or a channel overlay as they go through this process, but customer maps generally don't tell you the individual experience a customer had while fulfilling their particular goal.
So, while customer journey mapping can be a valuable workshopping exercise, it rarely represents true customer journeys due to its theoretical nature. More specifically:
Customer journey maps don't reveal individual customers' goals
Customer segments aren't differentiated
Insight into customers' decisions is absent
There's no ability to intervene and help customers when they get stuck
There's no way to fix broken customer paths
What customer mapping misses it that things happen when your individual customer interacts with your business – and these different journeys are marked by varying data points. This data point may be a branch visit, or a support call, or even a tweet. If we connect these dots, we get a real visual representation of the customers' paths as they try to achieve their goals in your business. Real journeys can only be data-driven, and it needs to be captured and leveraged within a Journey Analytics solution, which falls under the Journey Management umbrella.
So, what data do we use to fill the picture of the real customer journey?
This is transactional data, including things like log files or contact centre records that are created when your customer touches your business across different channels. Transactional data will usually span multiple applications, and it's essential to connect these dots to give you the bigger picture of how your customer is journeying through your business.

The things customers tell us
Whether it's customer feedback through structured mechanisms such as surveys, or unstructured feedback such as social media, feedback is an important layer of quantitative and qualitative data that is gathered. Text analytics surface important themes and sentiment from verbatim feedback which add to the Journey Management insights available.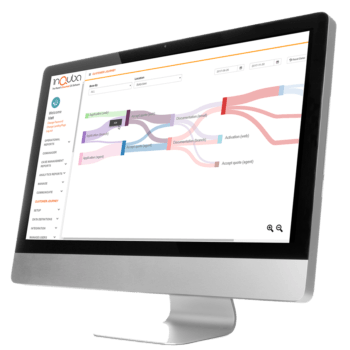 Your data will live in multiple systems and departments internally. When customer profiles are matched and connections are established between all the things a customer does (call, visit, tweet etc.) and how they feel when doing it, these data inputs result in seamless, visual, real customer journeys.
This Journey Management post is a summary of a paper called 'Customer Journey Mapping & the Importance of Data-Driven Methods'. Download the full complimentary paper for more detail.