The business-to-business environment has never been more challenging. Decision makers within businesses are drawing upon their own personal experiences as consumer customers. They've grown accustomed to using multiple channels and are more tech savvy than ever. And they expect to be engaged with contextually and personally. So why is this so challenging in the B2B environment?
Your business accounts, like onions, are characterized by layers. Structures and hierarchies are made up of multiple influencers (end users, buyers, executives, etc.) and demand more comprehensive, intelligent feedback and service recovery solutions. Your business customers are also often in multiple locations, being serviced by your own multiple selling and servicing units. This requires a consistency in handling and communication, as well as appropriate visibility of each account.
All CX efforts need to put the customer at the heart of the business, and not just during pre-sales or at random moments in time, but all the time. In a recent report by Forbes, "Four Habits Of The Best B2B Account Managers", empathy is listed as the first necessary habit. Empathy is only achievable when there is an understanding of context and history, and when there are mechanisms to reach out. inQuba CX for B2B ensures that an organized and contextual view of every account is available to supercharge account management and communication initiatives.
The following are essential for any B2B business wanting to ensure that their accounts are retained and that their future value enhanced.
Account hierarchies made visual
You'll know that your accounts are not simply groups of people in a flat structure. They're actually different roles with different levels of influence, who need to be regarded and communicated with differently. inQuba CX B2B represents this structure visually. Role weightings ensure that contacts within accounts are given the appropriate 'voice' in the feedback and analytics, so that the business can react fittingly.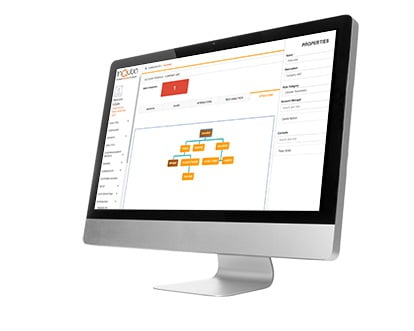 Account manager dashboards
It's important that all accounts are the responsibility of somebody within the business. Account managers can be associated with each account within the inQuba platform through a simple account manager look-up. Account managers use dashboards, tailored to their area of responsibility, which helps them to keep a very close eye on the health of their individual accounts. Dashboards provide a very quick view of account information, feedback being given by account contacts (weighted based upon role and recency of feedback), action items and overall sentiment. More detail is provided within the account insights and metrics
Account insights and metrics
Insights provide the account manager with a view of important metrics such as account satisfaction and NPS and how they are changing over time. Are there any outstanding issues requiring resolution? The account manager can access existing cases which are created in order to drive service recovery and action within an SLA framework. Feedback from individual account contacts, such as completed surveys or responses to engagements are available to provide insight into what the account is saying at a point in time, and unstructured feedback is processed by text analytics in order to summarise feedback into themes and overall sentiment. Sentiment is displayed visually on the account structure in order to highlight hot spots in the account. The account manager is also provided with a risk status per account, powered by machine learning.
Smart account engagement
inQuba is an integrated CX platform which means that all best-in-class CX solutions operate in harmony. In the B2B world this means that business account contacts can be communicated with intelligently and contextually, driven by the power of inQuba Engage. The business may want to send an engagement (survey or communication) to contacts with particular roles, across accounts. Or, the account manager may want to communicate with all accounts which are listed as be at risk, or with the decision makers at these accounts. This level of flexibility and power is made possible by the inQuba rules engine standard within inQuba Engage and CX. The account manager is empowered to reach out to account or contacts on an Adhoc basis or in a scheduled manner, and drive relationships positively.
inQuba CX for B2B is the B2B account managers' tool box, assisting the account manager to ensure that accounts are treated with empathy, context and that relationships are strengthened into the future.
Please contact us for any further information