By Michael Renzon – CEO/Founder inQuba
Club Med Val Thorens thinks out the box and completely reinvents the Skiing Customer Experience showing its uber-cool sponsored Social Media influencer group how CX is done!
Those of you familiar with the European skiing gig take the schlepping for granted. Arrive in Geneva, hunt down your Taxi, 2-3 hours later get dropped off somewhere in your skiing village, drag luggage through the town to find your hotel, arrive to find your room not ready, trudge through snow and hunt down ski rental shop, wait forever while attendant jumps from customer to customer, get skis/snowboard, trudge through snow, find ski locker, hunt down place for ski lift pass, head back to hotel, find a place for dinner, wake up early next day and finally… hit the slopes!
This ritualistic rite of passage is so well engrained in every skier that it has come to be accepted. You see skiing as one of mankind's finest blessings and to earn it, it is only just that one has to suffer a little. Not so at Club Med Val Thorens who have cleverly thought out the skiing customer journey and executed it so smartly leaving competitors in the dust, uh, snow!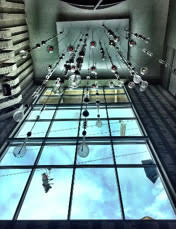 You see when you arrive at Club Med Val Thorens there is no concept of check-in – just the concept of lunch. They understand that people are likely to have flown into Geneva followed by a 2-3 hour shuttle ride into the Alps to arrive ravenous. On arrival you are immediately taken to a sumptuous feast fit for a king (or snow queen) during which our GO arrived at our table and explained how everything at Club Med works and presented us each with a nifty pack with our key access card, our snow pass, and Internet access. After lunch we went off to our rooms to find our bags neatly placed at the door. I've spent a lot of time discussing the Hospitality customer journey with executives who have spent their life in hospitality. They consistently describe 3 key experiences, namely the check-in, the in-room experience and the check-out. What I really admire about the Club Med innovation is that they haven't tried to optimize the check-in experience, which is generally bearable at best, they've completely done away with it!
So you may at this point be asking how do you pay for stuff if you haven't checked-in? Like everything else, Club Med has cleverly thought this out too. They take your credit card details and open an account at the first point that you actually want to buy something. And because you're actually getting something that you really want then and there, the experience of 'opening an account' is pretty exciting. In my case I wanted skis, and quickly.
The 'get skis/snowboard' experience is so impressive that by the end of it I actually videoed it in retrospect. The clever guys at Club Med have designed ski/snowboard hire as part of the hotel experience – no trudging through the snow, you simply walk right in. Since I'd 'opened my account' all my details were on their system as I walked into this area. It's designed like a
conveyer-belt with each station focused on getting you to the next point: boot fitting, ski selection, helmet fitting, insurance, bindings…and Voila! you're out the other side. Straight into what should obviously be there i.e. the ski locker room. How absolutely clever! When I asked which locker I could use and where I get the key (the ritual questions) they gave the knowing French half-smile, 'it's the locker with your room number on it and your room card key opens it'. Drum-roll! Of course that is so obvious – and to think nobody in the ski hospitality business has thought of that in the last 15 years? From the locker room it's ski-in and ski-out straight from the resort onto the snow.
Every aspect of the resort has been thought out with the same level of customer journey planning and insight. Slick self-service terminals all around the hotel tell you exactly where everything is and what the activity timetable is for that and the next day. Or if you prefer you can download the Club Med App which you can set to Val Thorens and is fully functional, right down to booking absolutely anything the resort offers, rendering the concept of 'reception' almost as arcane as the 'check-in' experience.
Club Med has long appreciated and applied Nobel Prize winner Daniel Kahneman's Peak-End Rule where people judge experiences largely based on how they were at their peak (i.e., their most intense point) and at their end, rather than based on the total sum or average of every moment of the experience. Most hospitality experiences end with a nasty bill for things you needed to survive during your stay like lunch and water. That's seriously unhospitable. Club Med figured this out years ago with their everything included pricing model. That means everything from all meals, to cappuccino and cold drinks during the day, afternoon high-tea, ski/snowboard hire, ski lift pass, to Jameson Irish Whiskey or Carlsberg Beer – no nasty house-brands 'for free'.
The end-result is a beautifully orchestrated, flawless and un-parallel experience with gleeful guests moving seamlessly from one delight to the next! Exactly the way the Skiing Customer Experience should be. My take out as a Customer Experience professional is what Club Med has done is 'so obvious'. What amazes me is how I and so many others have accepted, endured and never questioned the 'traditional' skiing experience until experiencing something so clearly different. It's really got me thinking about how other industries can rethink and innovate their customer journeys using the eyes of the customer to design something really awesome (sorry I mean Rad!).
Yours Sincerely,
Michael Renzon
inQuba CEO