JOURNEY ANALYTICS AND THE PURSUIT OF REVENUE
Posted by Margot Birbeck on Wednesday, 18th July 2018
People are really bad at making good decisions. According to Michael Lewis' new book, The Undoing Project, the human mind gets things wrong time and time again when dealing with uncertainty. People are fallible, and we tend to look for and see more certainty than there actually is. Our judgments are often based upon appearances and our fixation on the obvious, even if the stats say something else. We lean towards what we think we know despite any evidence to the contrary.
Being human, Customer Experience managers are not immune to this trait. We think we have a thorough understanding of human experiences and behaviour because we've seen the averages.
As mentioned in the previous post in this series, the customer journey is usually modelled conceptually, which typically represents a preferred customer path, and we make decisions based upon these models which are neat and understandable. But customer paths are not linear, and are anything but predictable, which means that there's a meaningful proportion of customer journeys that depart from the model. At an aggregate level customers are probably achieving their goals and are probably happy while doing it, but a double-click will expose a range of unique and surprising customer journeys. This is the information that is required to make meaningful decisions.
So, imagine being able to visualize your customers' actual journeys.
Journey Analytics is the next evolution of Customer Experience (CX). It introduces methodologies and a toolbox for CX professionals, enabling you to expose and visualize your customers' real journeys, and intervene in real time in order to assist and nudge. While this is happening, we're also building up and enhancing the single view of every customer which will inform contextual engagements in the future.
Science fiction? No. This is already happening with leading inQuba clients
The key objective of Customer Experience has to be the pursuit of revenue, and the revenue often lies in the unanticipated customer experiences. As mentioned in the previous post, Journey Analytics methodologies and machine learning open the door to value creation in acquisition, retention and cross selling. So where is this overlooked value?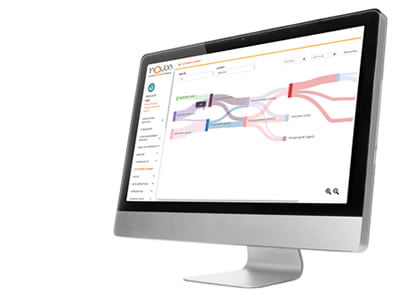 The CX professional making decisions based upon averages would've overlooked Charlotte. She received her first quote for short term insurance and then she went quiet. She simply went away and nobody noticed. Somebody should have been notified (after a reasonable period of time), and Charlotte should have received an automated, personalized engagement offering her assistance, or a gentle nudge in the right direction. Customers also need help making decisions. The insurer would have created a positive customer experience and found additional value in the acquisition process.
The CX professional squinting at averages also would've overlooked James. He lodged his claim and then became frustrated (based upon his social media comments) with the delays and poor communication. This was particularly important because James had been tagged as a high risk customer according to machine learning inputs which considered his profile and historic sentiment. A flag should have been raised resulting in James being personally contacted and shown some care. The insurer could have recreated James' experience and ensured that the customer was retained.
Back to Charlotte. As the insurer collects more information about her profile and preferences over time they'll be able to make meaningful offers and open up cross sell opportunities.
The conceptual customer journey is interesting at best. The CX professional requires a view of real customer journeys, intervention capabilities, a real time view of every customer which is informed by machine learning. This is the decision making tool box which inQuba makes available to the modern CX professional, and this is where delightful customer journeys are orchestrated and value is unlocked.
Want to see more about how Journey Analytics can take your business into the next generation of CX? Please watch our webinar.